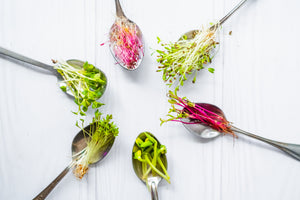 Start adding microgreen superfoods to your diet.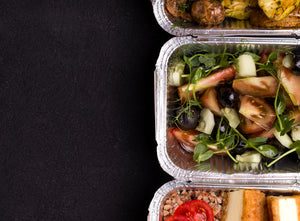 Learn how our live delivered microgreens can be used in your daily diet.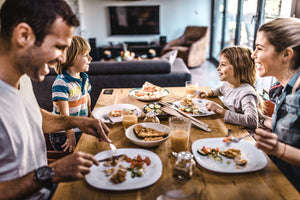 Healthier eating
starts today
Microgreens are a great way to add nutrients and vitamins to keep you and your family healthy.
The "Secret" Superfood Microgreens
Grown and Delivered Right to Your Door! Local Ottawa Delivery, Locally Grown in Ottawa, Incredibly Healthy. Add them to the food you already eat - no need to completely change your diet. Packed full of anti-oxidants and nutrients they can boost your immune system and help promote overall better health.
Insanely Healthy
Microgreens have 20-40 times the nutrient density of their mature counterparts. That means add a little get a lot. The best way to drastically increase your nutrient intake into your diet.
Taste Amazing
There is a reason why high end restaurants use microgreens in their cooking and presentation. Add some awesome flavour to your dishes and elevate your cooking game.
Easy to Use
Add microgreens to your salads, shakes, sandwiches, burgers, pasta, pizza, wraps, soups, and as a garnish. There really is no limit to where you can add these into your existing diet to reap the rewards.
Our Available Microgreens
No Chemicals
With our PURE growing method, we don't need to add any harmful chemical fertilizers or pesticides. Pure pH balanced water along with natural coco fiber pads and special LED grow lights are all we need in order to produce these outstanding superfood microgreens!
Pure Water
We use natural well water from our Ottawa Valley country property that is PH balanced. It is not necessary to filter out chlorine, fluoride, or any other harmful chemicals because our water starts out fresh and pure on its own. 
Non GMO Seeds
We only use Non-GMO Seeds. Laboratory created, Genetically Modified Seeds have no place on our farm, let alone in you and your families life. Every seed we plant is certified Non-GMO. 
Indoor Hydroponic
We chose to grow our microgreens hydroponically indoors for several reasons. It's the cleanest growing method which provides a sterile environment for plant production. Plus, vitamin and mineral content can be up to 50% higher in hydroponically grown plants! We can also grow them all year round. So essentially we grow Super Superfoods!
Living a healthier life
Easily The Healthiest Thing You Can Put in Your Mouth
Everyone knows that organically grown greens are really healthy for you. Nobody talks about the fact that everyday after harvesting those plants are losing nutrients. Couple days in a warehouse, couple days in a truck, couple days in the store, etc. 
We deliver our superfood microgreens still alive. They will continue to grow for up to 2 weeks.
You simply cut off what you want to use and leave the rest. Brilliant! 
support local
Are you a Restaurant, Personal Chef, Country Club or Caterer?
Wow your customers with the amazing color, flavor and nutritional benefits of microgreens. We Grow-to-Order and only deliver LIVE Microgreens so you can cut and plate as needed. Truly "Farm to Fork" dining!
★★★★★

To be honest, I've never heard of microgreens until I talked with Leah about the benefits. I am now on a weekly delivery order and add it to many of the dishes I was eating before. It's great knowing I am getting an increase in the amount of nutrients and vitamins that my body was craving. I feel amazing. 

Rick J

Almonte
★★★★★

Great service and excellent Micro Greens!!

Paul G

Ottawa, Ontario
★★★★★

I ordered and currently receive two flats of microgreens from Valley Microgreens every week. They are delivered to my door in bio-degradable wrap. Besides being FULL of nutrients, they taste fresh and delicious.

Cheryl

Ottawa
★★★★★

Great customer service! Leah is amazing to deal with. My kids love them.

Phil H

Almonte, Ontario
Local, fresh, amazing
Grown to order
We plant every week based on the orders to be fulfilled. That means no wasting product and fresh microgreens for all of our customers.